Electric Defrost Made Smarter and Simpler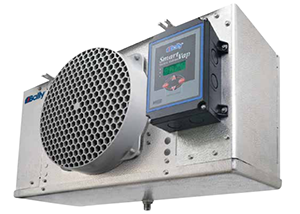 SmartVap II™ is a simple control located in the evaporator that controls the box temperature and all aspects of the electric defrost.
Simple: two pipes, two wires and it's done!
Electronically control box temperature, defrost initiation, defrost termination,and fan delay.
Factory pre-set to suit most applications, field adjustable for unique applications, with an extremely simple user interface.
Available for electric defrost single phase evaporators, up to 25 Amp. maximum overcurrent protection. Consult factory for other applications.
The Bally SmartVap II™ replaces: