Bally Refrigeration Design Tools
Bally Refrigeration Design Tools is a suite of software applications created to help refrigeration professionals make accurate calculations, access product information, choose components and print technical drawings.
Bally Refrigeration Design Tools are free to registered users
Getting started is quick and easy. Just click on the Continue button at the bottom of this page. Once you sign-up, you'll be presented with your download options.
Bally Refrigeration Design Tools require a PC running the Microsoft Windows operating system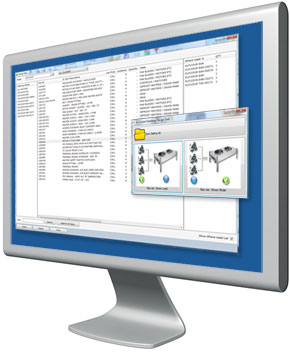 Box Wizard Load CalculatorA simple and quick means of calculating cooler and freezer loads as well as providing accurate system component selections.
Air-Cooled Condenser Designer
Select a condenser based on supplied design criteria, or select an existing model to see specification.(Suitable for single or multiple compressor applications.)
PiCoil Fluid Cooler Designer
Configure a single circuit Dry Fluid Cooler.
PiCoil Glycol Coil Designer
Configure a single circuit Glycol Coil for use in walk-in coolers, refrigerated warehouses and docks.
Certified Print Generator
Generate one-off certified prints, approval drawings and specs on given models. Includes printer output plug-in.
Service Parts List
Generate parts lists for specified models, or usage lists for specified parts.
Document Browser
Streamlined access to latest product support resources (specifications, installation, technical bulletins, promotional material).